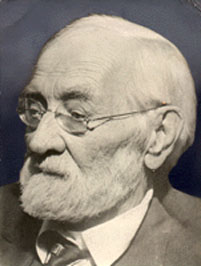 Rasmus Björn Anderson (January 12, 1846 - March 2, 1936) was a Norwegian-American author, professor, and diplomat, and the originator of the movement to honor Leif Erikson with a holiday in the United States. Through efforts he started and led, Leif Erikson Day became an official observance in his native Wisconsin and other U. S. states. Decades after Anderson's death, it became a federal observance as well.
From 1885 to 1889, Anderson served as the United States Ambassador to Denmark. He taught Scandinavian languages and literature at the University of Wisconsin for many years.
Anderson's book America not discovered by Columbus: an historical sketch of the discovery of America by the Norsemen in the tenth century helped popularize the idea that Vikings were the first Europeans in the New World. He was, however, a strong critic of the authenticity of the Kensington Runestone, writing several articles debunking it.
Sources
"Rasmus B. Anderson's dream comes true" Wisconsin State Journal, May 11, 1929.
"Wisconsin professor who hobnobbed with kings" Milwaukee Journal, June 26, 1932.
"Grand old Viking dies" Obituary. Wisconsin State Journal, March 3, 1936.
Text of A Happy Boy by Bjørnstjerne Bjørnson, translated by Rasmus Björn Anderson, from Project Gutenberg
Preceded by
Wickham Hoffman
U.S. Ambassador to Denmark
1885–1889
As Minister Resident/Consul General
Succeeded by
John A. Enander